U7 Girls

U7 BOYS AND GIRLS - OUTDOOR 2020
For Who
U7 - Players Born January 1, 2013 - Dec 31, 2013 (Gender Specific play)
Gender specific play unless not enough players register, then genders will be mixed. Players must be registered in their respective age group, based on birth date.
Philosophy - "Me and My Friend"
To give players the opportunity to develop their movement ABC's and learn the basics of the game while emphasizing FUN, cooperation, and maximum time on the ball.
The focus is individual development, ball mastery and physical literacy, whilst beginning to learn to cooperate with a teammate.
To develop a player's individual relationship with the ball, to want it, how to find it, deal with it, feel comfortable with it, keep it close.
Developing all players confidence with the ball, the more they will become involved, and the more fun they will have with soccer.
The two nights per week will be balanced between fun practicing and 5v5 games. All players will have equal playing time. The environment will be positive and the emphasis is on fun and falling in love with the game.
Coaching
Parent/Volunteer Coaches will be appointed for the season and will run the sessions each week, with assistance from the technical staff. Head coaches will receive a $100 credit towards their child's registration at the end of the season after equipment has been returned & upon submission of required team information and a valid Criminal Record Check to the SPDSA by the specified deadline. Only one head coach per team is eligible for the credit
All head coaches and assistant coaches are required to complete the MANDATORY online Respect in Sports training. If you have one from another sport and was completed within the last 5 years, there is no need to redo the training. Please contact our office for the link to complete the RIS training and once complete, please email a PDF copy of your RIS Certificate to our office at office@spdsa.net There is NO CHARGE for our members and fees are covered by the SPDSA.
In-service coaching workshops will be held before and during the season.
A full season curriculum and individual session plans will be provided electronically for all coaches.
The best qualities for a coach of this age player are
Patience.
Good humor.
Clearly understand the capabilities and limitations of this age and appreciate the power of learning by watching.
Ability to demonstrate basic ball mastery skills.
A weekly session will be led by a Master Coach from the SPDSA Technical Department. The other weekly session will be volunteer coach led (session plans will be provided)
Planting the seed of passion for soccer is the most important goal in this age group. All players must be active during activities and equal amounts of playing time given during activities and games
PROGAM Structure
The Master Coach led Program is structured following the Canada Soccer and FIFA Preferred Training Model. In this approach, each training session is built around 4 activity station's that the players move through at regular intervals.
The 4 stations focus on, Fundamental Movement/Coordination, Soccer Technique, 1v1 games, and Small Sided Games. Addressing all 4 of these at each session will help develop well-rounded young players with a foundation in physical literacy, solid soccer skills and, ideally, an enduring love for the game.
Each session is 60 minutes in length
There are 3, 10 minute stations (Fundamental Movement/Coordination, Soccer Technique, and 1v1 games)
Followed by 1, 30-minute station (5v5 games)
An example session is shown below,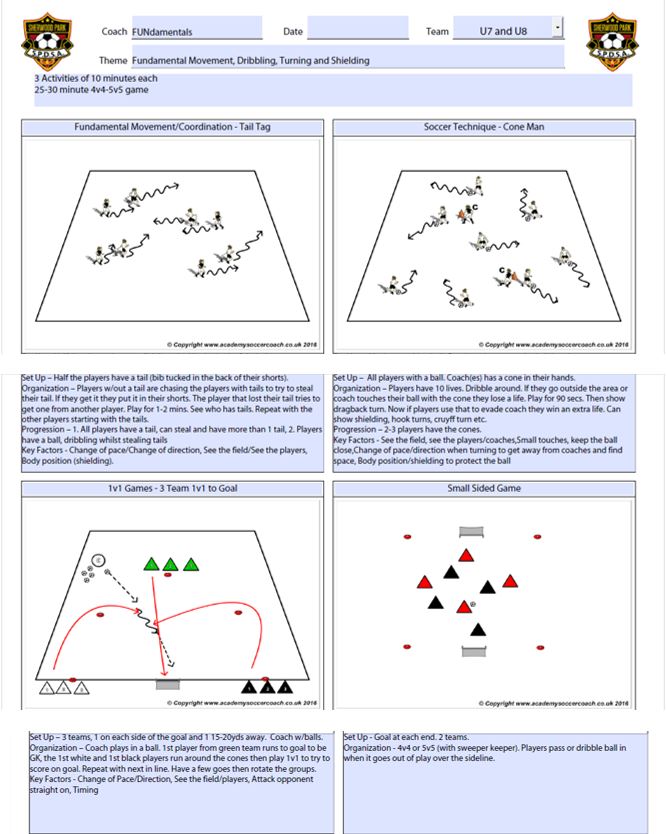 Field Set Up
Two teams share a game field, using half each for the first three activities. They then use the whole field for the 5v5 game (play against each other).
Use Pug goals as nets.
Mark the field with cones if the field isn't lined.
Size 3 soccer ball only.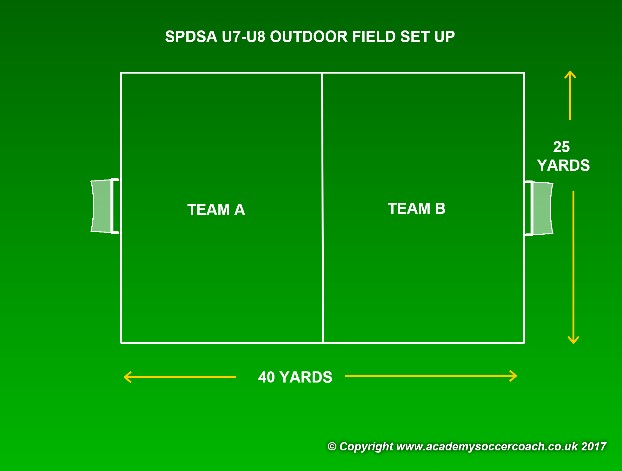 Game management,
No scores to be kept. Equal playing time for all players.
When the ball goes out of bounds, restart with a pass-in or dribble in (NO THROW INS).
No emphasis on team concepts or positions. Players should be encouraged to not fear having the ball, to be creative and to take chances.
Don't punish mistakes. Don't play safe. Don't make winning the key.
The Season
Season Length - 9 weeks starting the week of April 27, 2020 and ending the week of June 22, 2020.
Week 1 is weather dependent and will not be rescheduled. Remaining games that need to be rescheduled will be in accordance with the SPDSA rescheduling policy.
2 x 60 minute sessions per week
Special Events - Jamboree - June 6th & 7th, 2020
Days/Nights of Play
Choice of Monday and Wednesday evenings or Tuesday and Thursday evenings
6:00pm and/or 7:00pm start times
Game days and start times may be subject to change, pending field availability.
Games will be played in Sherwood Park. Field location to be determined.
Registration and Fees
$215.00 Early Bird. Rates increase after March 1st by 25.00 and again after March 18TH by another $25.00 Registration Deadline is March 18th, registration can still take place after this date if space is available.
Fee includes shorts, socks and jersey (Players are required to provide shin pads and footwear)
Fees include Jamboree June 6th & 7th