U9 Boys
U9 BOYS AND GIRLS Community - OUTDOOR 2018
For Who?
Players Born January 1, 2009 v Dec 31, 2010 (Gender Specific play)
Philosophy - The Beginning of Us
This is the "golden age of learning" when children become less self-centered and are more able to reflect on their actions and learn from their mistakes. This provides an optimal window for further development of individual skills.
The focus at this stage is on learning by doing, enhancing ball mastery, and learning the basic techniques and principles of play in a fun and challenging environment.
Players are beginning to become aware of how to interact with teammates. They can be introduced to the idea of thinking about their decisions and movement as being related to themselves and 1 (or at most 2) teammates and 1 or 2 opponents. 1v1, 2v1, 2v2.
Competition is a central element in a player's development, however, a competitive environment should not be a result-oriented environment. The differences must be made clear. A competitive environment at the youth level encourages decisions from player and coach alike that focus on performance rather than outcome (favoring ball skill and inventiveness as the means to find success within the rules and spirit of the game). The result is just one indicator of performance and at this age, not the most important one.
The sessions should be focused between fun practicing and the 7 v 7 games. All players will have equal playing time and will have an opportunity to play all positions equally. The environment will be positive and the emphasis on fun and development.
Coaching
Parent/Volunteer Coaches will be appointed for the season and will run the sessions each week, with assistance from the technical staff. Head coaches will receive a $100 credit towards their child's registration at the end of the season after equipment has been returned & upon submission of required team information and a valid Criminal Record Check to the SPDSA by the specified deadline. Only one head coach per team is eligible for the credit
In-service coaching workshops will be held before and during the season.
A full season curriculum and individual session plans will be provided electronically for all coaches. The sessions will be based on the Learn 2 Train stage of the Canada Soccer Association's Long-Term Player Development Framework
The best qualities of a coach for this stage of player are
Enthusiastic and encouraging
Demonstrates whilst facilitating practice
Stimulates ideas
Planting the seed of passion for soccer is the most important goal in this age group. All players must be active during activities and equal amounts of playing time given during activities and games
Program Structure
Each session is 70 minutes in length
1 practice and 1 game per week
Match play 7v7 (6v6 plus goalkeepers) - 2x25 minute halves
Individual technical development will be focused upon in practice. Also, Small sided (4v4) game play is to be used, as this is an effective method of developing ball mastery and game awareness as it increases opportunities for players to have contact with the ball.
An example practice session is shown below,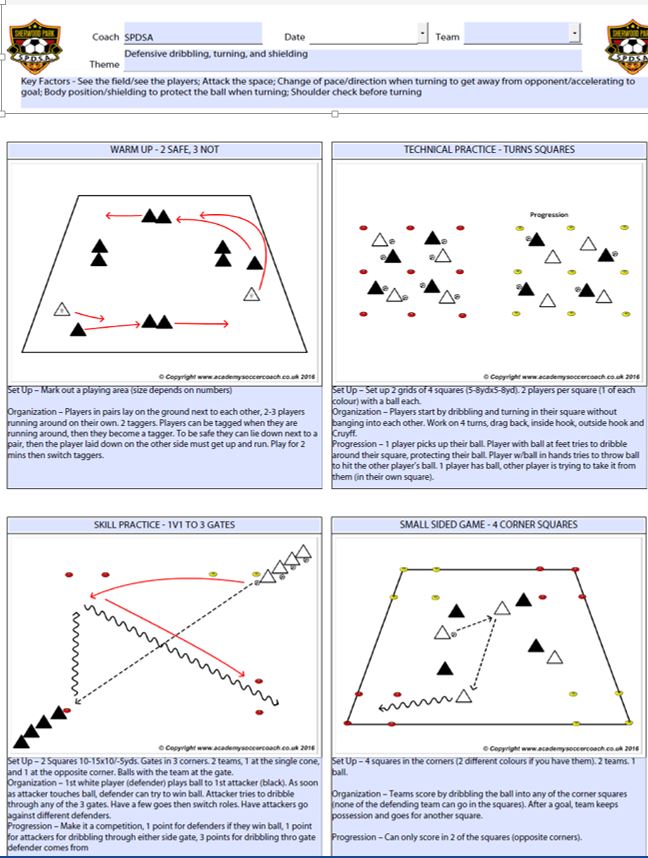 Game management,
No scores or standings to be kept.
Equal playing time for all players. Substitution should be used to address injury, fatigue and lack of effort. It should not be used to punish a player for a soccer-related decision.
Don't focus on positions. All players should be encouraged to take part in attacking and defending. Players should learn the game based on principles of the game rather than positions on the field. Players' decisions on the field should be based on what makes sense to them in the game. Let the players experience different positions and the different challenges that these positions create.
Warm Up - all players with a ball, moving, ball mastery.
Manage the amount of coaching during the game. Let them play. Encourage creativity. Don't punish mistakes. Don't referee. Encourage both teams play.
Promote soccer that is free flowing, is coach-guided but not coach directed, and demands that all players on the field, regardless of their specified position, participate in defending and attacking.
The Season
Season Length - 9 weeks starting April 30 ending June 27
Week 1 is weather dependent and will not be rescheduled. Remaining games that need to be rescheduled will follow the SPDSA Rescheduling Policy
Frequency - 2 x 70 minute sessions per week
Special Events -
2018 Classic Tournament May 24-27
Days/Nights of Play
Monday and Wednesday evenings
5:45pm and 7:15pm start times
Game days and start times may be subject to change, pending field availability.
Games will be played in Sherwood Park, Ardrossan and Ft. Saskatchewan. Field location to be determined.
Registration and Fees
$235 Early Bird. Rate increase after March 1st by $25.00 and again after March 18th.
Fee includes shorts, socks and jersey (Players are required to provide shin pads and footwear)
Classic Tournament on May 24 - May 27th is included in fees.