Shooter / Keeper 2 Day Mini Camp
---
---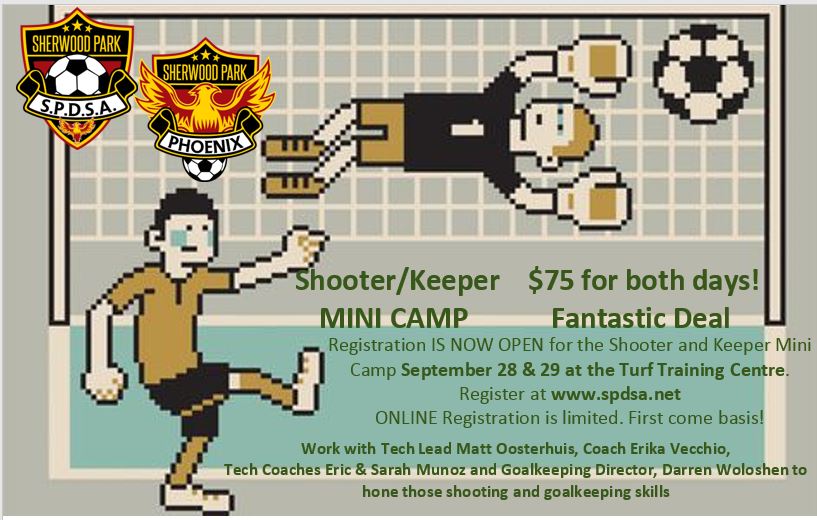 ---
The SPDSA is providing an unique opportunity on September 28th and 29th, space is limited and open to current PHOENIX/SPDSA PLAYERS on a first come first serve basis. SPACES ARE LIMITED, SO REGISTER EARLY TO AVOID DISAPPOINTMENT!
Registration Deadline September 25th
What: Shooter/Keeper Phoenix Mini Camp
When: September 28th and 29th, 2019
Where: Turf Training Centre (5820-59th Ave Edmonton)
Times: As indicated below.
U9: 11:00am - 12:30am - September 28th, 2019
3:00pm - 4:30pm - September 29th, 2019
U11: 12:45pm - 2:15pm - September 28th, 2019
4:45pm - 6:15pm - September 29th, 2019
U13-U15: 2:30pm - 4:00pm - September 28th, 2019
6:30pm - 8:00pm - September 29th, 2019
Cost: $75.00
Instructors:
Shooters - Matt Oosterhuis, Erika Vecchio, Sarah Munoz, Eric Munoz
Keepers - Darren Woloshen
REGISTER ONLINE (SELECT INDOOR CAMPS) BY CLICKING HERE